The winter season has been relentless in the low-temperature department, so we're looking to Sperry for our go-to, cozy shoes and boots. You already know the iconic footwear brand for their must-have boat shoes but did you know they also offer a variety of stylish boots to keep your feet warm and dry during the harshest season? The first few months of the year are brutally cold, so we're here to help you start 2022 on the right foot with footwear from Sperry.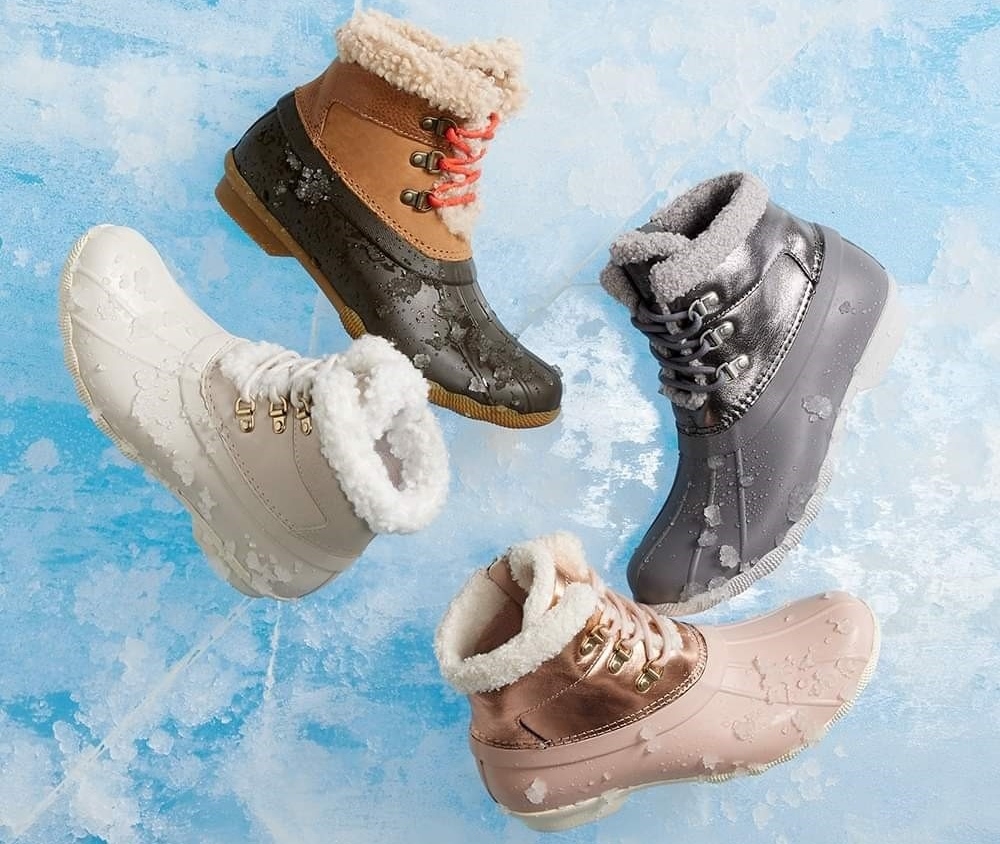 Apple Bottom jeans may not exist anymore but you'll definitely want to get better acquainted with these "boots with the fur". With this collection of all-weather, footwear, Sperry will have you ready for whatever nothing nature throws at you this winter. Whether you're looking for Duck Boots, Rain Boots, Waterproof Leather Boots, Quilted Nylon Boots, or Slip-on Boots, Sperry has the high style footwear you're looking for.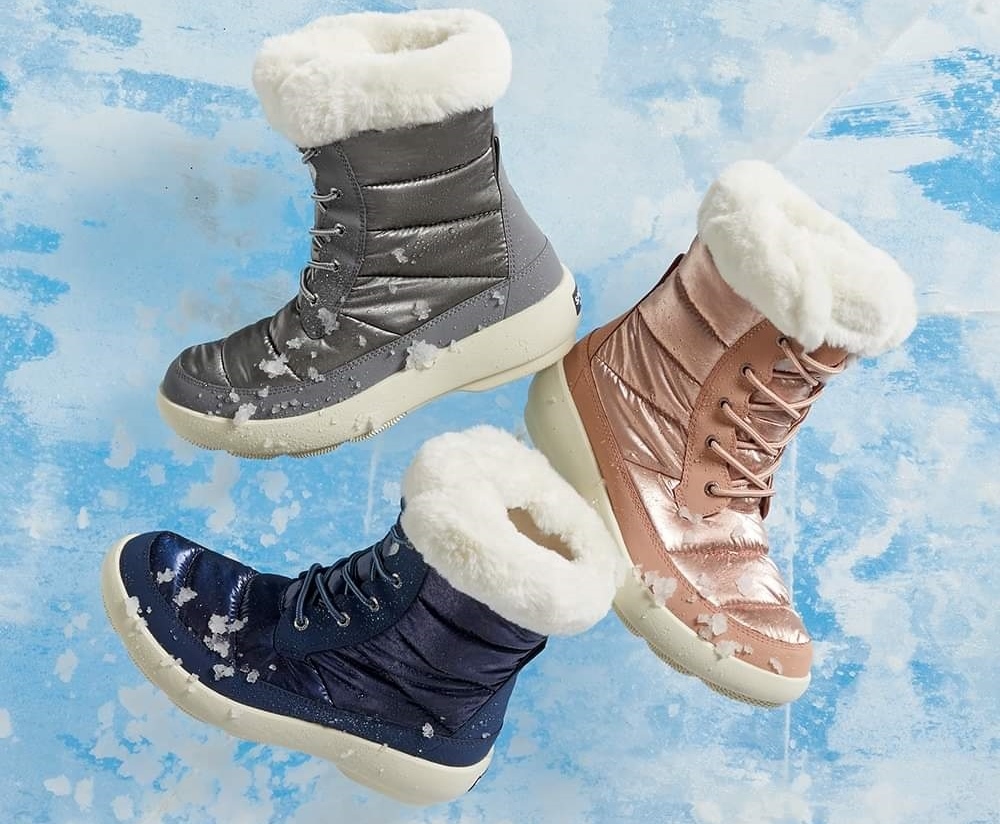 Ladies, to survive the snow-laden streets, we highly recommend the following Sperry winter styles: Saltwater Alpine Duck Boot, $99.95 (first photo) - Stability, comfort, and warmth combine in Sperry's all-weather boot with alpine-inspired details. Made with a slightly lower leather shaft with faux fur trim, it comes in a variety of colors to match your style, color wheel, or mood. With a water-resistant shell and microfleece lining for extra warmth, your feet stay dry and cozy, no matter where this shoe takes you. Bearing PLUSHWAVE Shimmer Nylon Boot, $129.95 (2nd photo) - Winter weather has nothing on the Bearing boot, complete with light-as-air PLUSHWAVE technology for ultra-cushioning. Featuring water-resistant nylon uppers with premium leather details and faux fur lining, it's the perfect example of comfort-meets-fashion. Torrent Lace-Up Boot, $159.95 - Experience unparalleled comfort while making a fashion statement in Sperry's lace-up winter boot. This cozy boot is made with premium, waterproof suede, soft faux fur trim, and their most advanced technology, their Signature IceTREAD, for extra grip in icy weather.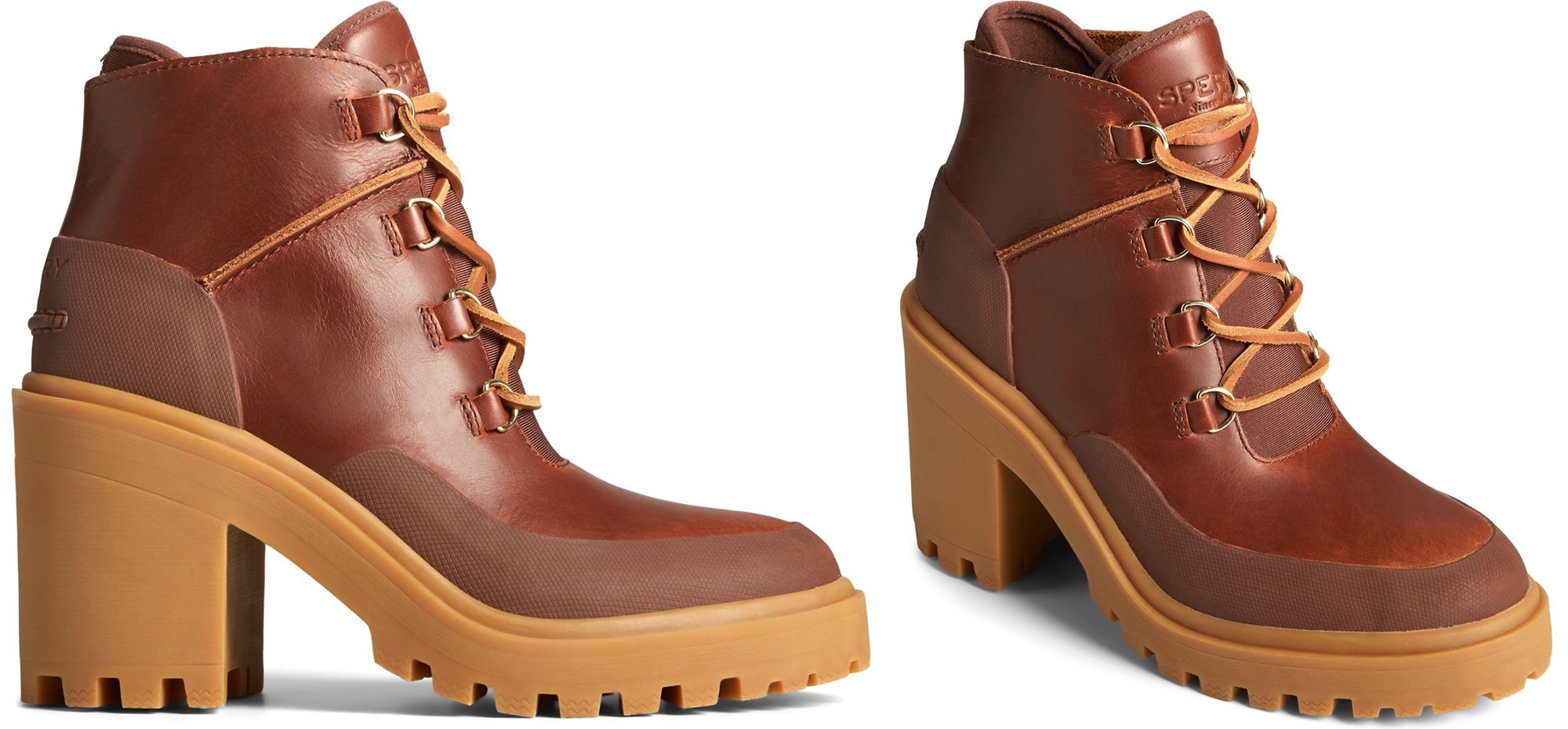 Pretty Tough Boot, $149.95 - Our favorite Sperry style is actually not for those snowy winter days; the Pretty Tough Boot is a stylish treat! The tough and trendy new, high-heeled boot features all the right details for fashionistas. It boasts waterproof leather, a neoprene bootie interior, D-ring hardware, and a 3.5-inch heel. With this very cool and edgy boot, you'll feel ready to brave the elements without missing a fashionable step. We're sure you'll fall head over heels for these fabulously fashionable winter boots, so we'd love to hear which of these are your favorites.
**This article also appears on www.mylifeonandofftheguestlist.com.
Category: Shoe Blog, Shoeography, Snow Boots, Snow Shoes, Sperry, Winter boots, women's boots, Women's Shoes